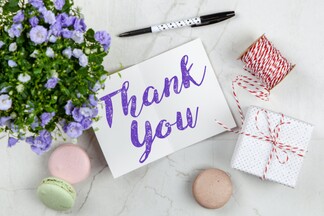 When to Send a Thank You Note
It's never wrong to send a thank you note, and people always appreciate getting "thanks" for their efforts. And if you're thinking about whether or not you should write a thank you note, you probably should. Anyone would appreciate receiving a thank you note, and some people may be expecting one.
It's always correct to send handwritten thank-you's, and people always appreciate them. Handwritten notes are warmer and more personal than a phone call or email, and only second best to thanking someone in person.
Email is okay to thank for a coffee or meal that was casual or whose invitation was extended by email in the first place. It's also okay for very small favors. But for dinner parties, big favors, an actual gift, or being a houseguest, handwritten thank-you notes are your best bet for an expression of warm, heartfelt thanks.
There is simply nothing as personal as a handwritten note. In a stack of bills and flyers, it's a treasure in a sealed packet, full of promise and potential. It is a visceral reminder of someone far away.
They are an opportunity for us to connect to the people in our lives in a meaningful way. In an increasingly informal digital world, continuing to pull out pen and paper is a way to distinguish yourself. The handwritten thank-you note speaks volumes simply as a medium and sends the message that you care enough to invest yourself personally in acknowledging another.
Handwritten notes still have a personality, warmth and, when needed, gravitas that computer screens don't. And questions of appropriateness aside, people still enjoy opening them. More than anything, that tells me they have lasting value. So, send a little joy someone's way.
How to Write a Thank You Note
Sometimes it's easy to write off a heartfelt thank-you note. Other times, writer's block can set in—especially when you are staring down a large stack of them. Before you start, remember that thanking people needs to be about just that: expressing thanks. So refocus, reorganize, and rethink the process.
This is a brief note, about four sentences, meant to express something you are grateful for. Be sure to say what you mean directly. The thank-you note is special; it's to express your appreciation, so keep the focus there.
Use a salutation.

Formal/Professional – Dear >>,
Professional – Dear >>,
Close Professional/Social – Dear >,
Social – Dearest >,
Good friend – First name, Nickname, or Initials

First sentence – Thank them explicitly for the specific gift or act for which you are writing the letter.

I am so thankful/grateful for.
I want to say how much I appreciated.
I am writing this note to acknowledge.
I want you to know how much I value.

Second Sentence – Personalize the note with an original thought about the things you are thanking for, the effort or thought behind it, what it means to you and the relationship.
Third sentence (optional) – Pull the focus back and think about the future. Suggest future actions or direction or develop the thought from sentence two.
Fourth sentence – repeat the thanks or offer a concluding thought.
Use a closing.

Formal/Professional/Social – Sincerely
Professional/Social – Best regards, Regards, All the best, Best, Respectfully yours, Cordially
Social/Personal – Yours truly, Warmly, Affectionately yours, With great affection, With love, etc.
Who should you write thank you notes to?
How do you know when sending a thank you card is appropriate and who should you write thank you notes to? This question is actually not as tricky as it sounds. Whenever someone has done something nice for you like presenting you with a gift or going out of their way to help you, it's definitely worth writing them a thank you card. No, sending a thank you text message is most definitely not the same thing.
Of course there are actual occasions when thank you notes are basically expected, but huge life changing events are not the only time a thank you note is called for. In fact, the more surprising the thank you note is — the more special it will make your recipient feel. Below are some good solid reasons to mail a thank you note, but don't let that limit you…
Special occasions when thank you notes are expected.
While the reasons listed above are more everyday non-official type reasons to write thank you notes, there are special occasions when these little notes of gratitude are expected.
From diaper cakes to a helping hand, your friends and family have done all they can to make your life as a new mom and dad as smooth of a transition as possible. Even though it may seem like you have zero time on your hands to give a proper thanks, you should try to get a few minutes each day to write out a thank you. [Plus, with Postable you can type the thank yous online and we'll mail them for you.]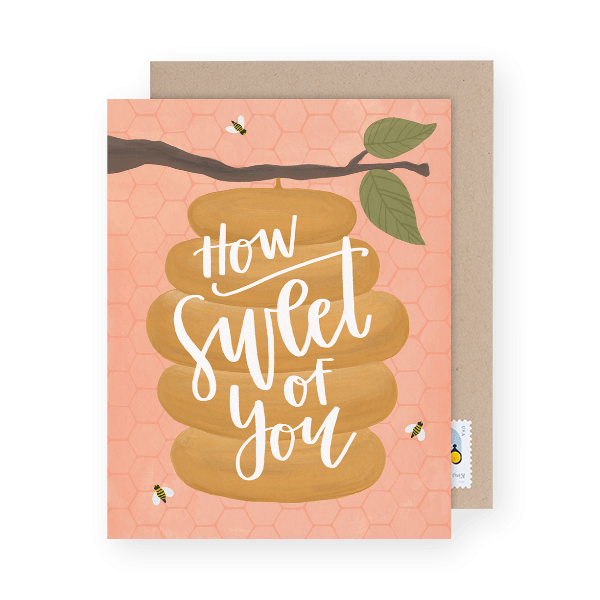 Who to send a baby shower thank you card to?
As with wedding thank you cards, it's best to try to keep a guest list close by when the gifts are opened so that you can keep track of who gave what. When a gift arrives in the mail, make sure to add to the list as soon as it gets in so that nobody goes un-thanked.
What to Include in a Thank-You Letter
Address the person appropriately. At the start of the letter, address the person with a proper salutation, such as "Dear Mr. Lastname." or "Dear Firstname." If you know the person well, use the person's first name. Otherwise, address him or her as Mr., Ms., or another appropriate title.
Say thank you. Get to the point of your note quickly. Say the words "thank you" in the first sentence or two, so the person knows why you are writing. If you are sending an email, include the phrase "Thank You" in the subject line as well.
Give (some) specifics. Make sure you specify what you are thanking the individual for. Go into a bit of detail, so the person understands exactly what you appreciate. For example, if you are saying thank you to someone who gave you job advice, explain what you found to be most helpful. If you are saying thank you after a job interview, remind the person of a particular moment from the interview (or remind them why you are a good fit for the job).
Sign off. Use an appropriate closing, such as "Best" or "Sincerely." Then end with your signature (handwritten and typed if it is a letter, handwritten if it is a card, and typed if it is an email).
Tips for Writing a Thank-You Letter
Send it as soon as possible. Write and send your note as soon as possible. Don't delay in sending your thanks, especially after a job interview. Not sending a thank-you letter after an interview can hurt your chances of getting hired.
Be positive but sincere. Express your gratitude, but don't go overboard. People can tell when a thank-you note is insincere. For example, if you are thanking an employer after resigning from a job, you should express your thanks, and focus on what you liked about working there. However, don't lie and say you loved everything if you didn't really. Focus on the positives, but don't lie.
Personalize each letter. Personalize each thank-you letter you send. For example, if you send thank-you notes to everyone you interviewed with for a job, add something to each note about your specific conversation with each person. Don't simply copy and paste the same message for each person—this will come across as insincere.
Proofread and edit. A thank-you note in the workplace must be professional. This means it should be well written and error free. Proofread your letter carefully before sending it.
Source:
https://emilypost.com/advice/complete-guide-to-writing-thank-you-notes
https://www.postable.com/blog/how-to-write-a-thank-you-note-the-ultimate-guide/
https://www.thebalancecareers.com/general-thank-you-letter-sample-2063961